Premier Pro | Premium VPN Service
Premier Pro is the only provider of premium VPN services. We are not your average "mass produced" VPN company with low quality VPN services. We are a boutique VPN company providing only the highest levels of service and products. All of our servers and VPN accounts are engineered by top-class system administrators. We guarantee the best standards of privacy, speed, security, reliability and support in the industry. This is why our customers love us.
Use Premier Pro VPN to:
Access the internet and use applications and games that are blocked by your ISP, country, company, school, etc.
Get privacy by hiding all your online activity. Nobody, including your ISP or even us can track your activities.
Secure yourself from hackers by encrypting all your online transactions. Great for when you are using public internet.
Set up a home network, connect to a remote computer or even set up a file sharing server.
Why Premier Pro?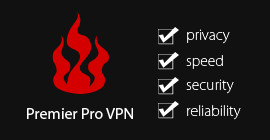 Privacy, Speed, Security, Reliability and Service
Our VPN Plans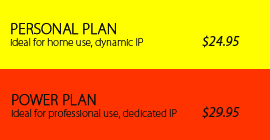 Find the perfect plan for you.
Buy NOW!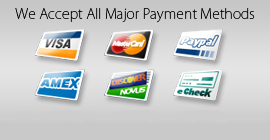 Ready to purchase your VPN now?